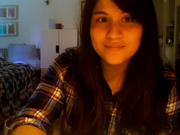 Natasha Allegri is a crew member who works on Adventure Time. During the first two seasons she was a character designer, and currently works on the show as a storyboard revisionist. She has designed a multitude of the characters on Adventure Time, and also designed the gender-swapped versions of Finn (Fionna), Jake (Cake), Princess Bubblegum (Prince Gumball), Marceline (Marshall Lee), Lady Rainicorn (Lord Monochromicorn), Ice King (Ice Queen), and Flame Princess (Flame Prince). She did a walla in Loyalty to the King.
Natasha stated on her Formspring that she created all the scary faces in "Henchman" and the dress Marceline wore.
She sang the theme for "Fionna and Cake."
Her favorite character is Tree Trunks.
Her favorite Adventure Time couple is Kim and the can that she was kissing.
Natasha and Pen created a short parody animation called "Pikapew Poop Chu" that they posted on YouTube.
According to her Formspring, she met Pendleton Ward on the internet while doing journal comics, and then he gave her the job.
She has a cat named Pancake that appears in her comics and is referenced in some episodes of the show.
Natasha's comics
Edit
Ad blocker interference detected!
Wikia is a free-to-use site that makes money from advertising. We have a modified experience for viewers using ad blockers

Wikia is not accessible if you've made further modifications. Remove the custom ad blocker rule(s) and the page will load as expected.